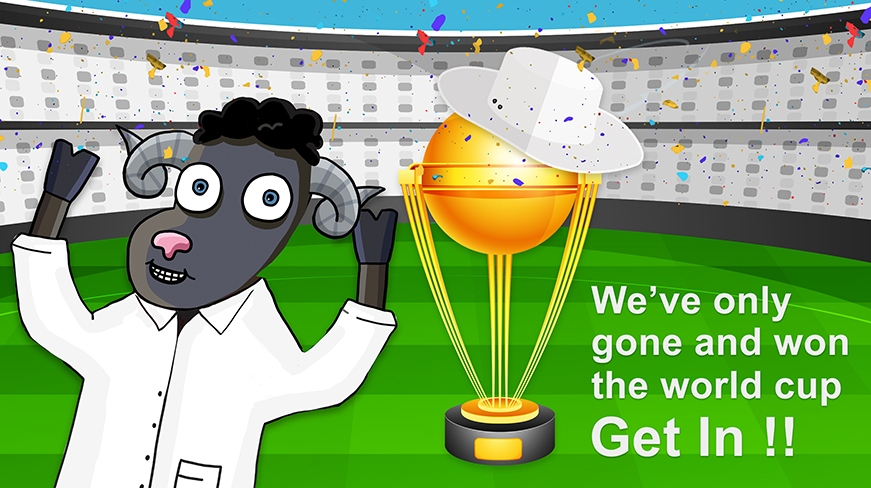 YES! England have won their first ever World Cup
How was that (Howzat), absolutely unbelievable, amazing, outstanding, there are no words to describe what happened yesterday afternoon, but 'YES!!!' we won the World Cup and whether it's champagne Super Over or the great escape, England did it, they won the Cricket World Cup.
I thought with 2 overs left we've blown it, yet again we've bottled it, thrown it away, choked and then Ben Stokes goes for a six. He's going to be caught, my heart sank, then by some sovereign power stroke of good fortune, the New Zealand fielder stepped onto the boundary marker after he had caught the ball. Even then still needing something miraculous 9 runs from 3 balls and Ben Stokes strikes the ball towards the boundary, he needed a six but diving for the crease to make 2, the fielder throws the ball at the wicket and it hits Stokes' bat and goes for an additional 4 runs, 6 runs is what he got, now the roof has lifted off the house, we couldn't, could we, surely not ?
Now we need 3 from 2 balls to win, Stokes gets 1 but somehow manages to stay on strike as Rashid gives up his wicket, in comes England's last batsman Woods, all he has to do if Stokes makes contact is leg it and now I was wishing Usain Bolt was English. Stokes hits the ball toward the boundary and I'm willing Woods to get back for 2 but sadly he's run out and England only make 1 and I can't believe that the final game of 50 overs a side is tied and we are going to a Super Over.
England make a great 15 from the over with Stokes and Butler, surely that's enough I am thinking, then up steps the young gun Archer, he's been given the job of bowling England Super Over at the Kiwis. 'NO' I am shouting, give it to someone with more experience, his first ball is a wide, 'NO!!!' my voice is getting louder, the Kiwis then get 4 from the next 2 balls, and then a 6 'ARRRRRRRH'. From thinking 15 was enough, the Kiwis now need just 5 from 3 balls. I am thinking we have blown it again, young Archer was looking so nervous, the whole country was probably feeling the same, they score a 2 and then only a 1 from the penultimate ball. Young Archer has bowled better and now it's all down to the final ball, the Kiwis need 2, 1 is not enough as England would win on a tie as they have scored more boundaries during their innings, 'COME ON' is the cry from our house, at least Archer bowls a full Yorker, its goes towards the boundary, the Kiwis set off running, they make one and turn for the 2nd run, Jason Roy picks the ball up and launches it in towards Jos Butler, I am screaming don't drop it, make sure you get the ball in hand before reaching for the stumps, time just stands still for a moment then 'YESSSSSSSSSS', we've done it, Butler whips the bails off and England win the World Cup.
What a game, what a finish, what a team, we've only gone and won the World Cup, Get In !!